A real "Italian style" Christmas meal
Traditionally, the Italian families reunite for Christmas Eve (December 24th) or on Christmas day December 25th for lunch and exchange of gifts. It is also often that the celebration is held both on 24th and on 25th, Italians do like festivities. Let's concentrate now on the Christmas lunch and its inevitable culinary traditions.
The Christmas lunch is a perfect moment to reunite the family around the table; as you know for us italians, the food is always a simbol for sharing and emotional participation.
In most cases the Christmas menu starts with various appetizers such as ham, gammon and cheeses accompanied with fresh bread, sweet and sour marmalade as well as the famous "russian salad" (made with small pieces of boiled vegetables and mayonnaise).
Generally, two different first courses are prepared. The most common are "tortellini in soup" and "lasagna", usually made by a granny or other well experienced family cook.
As a main dish, the tradition would see well a good boiled or roasted meat with potatoes and vegetables.
The right conclusion of the lunch is with a famous Christmas desserts "panettone" and "pandoro" and every Italian has its favorite.
Pandoro is a simple cake and can be garnished with mascarpone cream, ice cream or chocolate. Panettone is a traditional Milanese desert, pastry made with water, flour, butter and egg, enriched with candied fruit, orange or cedar peel and raisins.
Obviously during the meal the red or white wine is always present to accompany the various courses and on the end of the lunch a real Italian espresso is a must for everyone.
Now that we have awakened your taste, we can only wish you a Merry Christmas and Happy Holidays!
In order to participate at the contest, please submit the dedicated form of participation (you can find it at the bottom of the page) and you will take part in the great final raffle to win "a cooking course of two classes in one of our schools at your choice".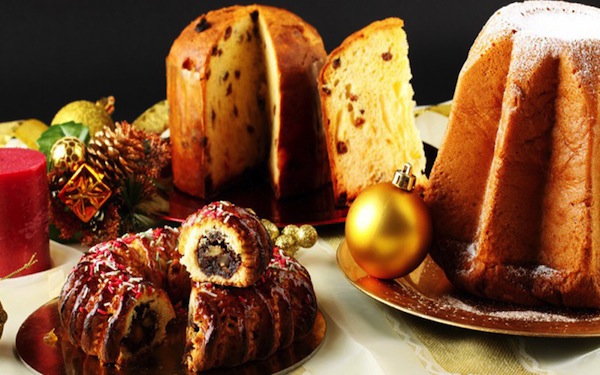 Il pranzo di Natale all'italiana
Gli italiani da sempre si dividono tra chi festeggia il Natale già la sera della vigilia (il 24 dicembre) con una cena in famiglia e chi si riunisce invece la mattina del 25 dicembre per il pranzo e lo scambio dei regali.
Anche se alcune famiglie festeggiano in entrambi i giorni..concentriamoci sul pranzo del 25 dicembre con le immancabili tradizioni culinarie e non.
Il pranzo natalizio è un'ottima occasione per riunire tutta la famiglia a tavola; come ben sapete per noi italiani il cibo è sempre un momento di condivisione e convivialità.
Il menù tipico natalizio ha alcuni antipasti come affettati e formaggi da mangiare con pane fresco e qualche volta confetture agrodolci e l'immancabile insalata russa (antipasto composto da verdure lesse a pezzetti mescolate con salsa maionese).
Generalmente si preparano due primi: uno in brodo, l'altro asciutto. Tortellini in brodo e lasagne al forno sono i più cucinati, di solito dalla nonna di casa!
Come secondo, il piatto più tradizionale è l'arrosto con patate magari con una fresca insalata in aggiunta.
Il pranzo si chiude poi con dolci e frutta, gli italiani si dividono tra amanti del pandoro e sostenitori del panettone, voi di che team fate parte?
Il pandoro è il più semplice tra i due dolci natalizi e può essere guarnito con zucchero a velo o crema al mascarpone per i più golosi! Il panettone, invece, è un dolce tipico della tradizione milanese, una pasta lievitata di acqua, farina, burro, tuorlo d'uovo arricchita con frutta candita, scorzette d'arancia o cedro e uvetta.
Frutta secca come noci, nocciole o mandorle e mandarini anticipano l'italianissimo caffè dopo pranzo. Ovviamente durante il pasto il vino rosso o bianco è sempre presente ad accompagnare le varie portate!
Adesso che vi abbiamo messo l'acquolina in bocca non ci resta che augurarvi Buon Natale!
Compilando il form di partecipazione (che troverai in fondo alla pagina) potrete partecipare all'estrazione finale del premio "un corso di cucina di 2 lezioni in una delle nostre sedi a vostra scelta".
---
PLEASE COMPLETE THE FORM / LA PREGHIAMO DI COMPLETARE IL FORM