Good morning to everybody and Happy Christmas' Eve!
The great day has arrived! Today we will extract the winner of our Advent Calendar raffle!
Even this year many of you took part in our game and we would like to be able to give a prize to all of you, but it it is a game in the end and only fortune will tell!
Our prize for you this year are two cooking lessons that will allow the winner to dive into our cuisine, to discover flavors and colors or our rich Italian cooking tradition!
Every lesson of our course consists in three hours during which a group of students, with the supervision and help of a professional chef, will prepare a menu of traditional Italian dishes. A pleasant occasion to speak Italian, socialize and have fun, which is exactly the spirit of our lessons: learning with fun and joy!
Find the details of our course here: http://www.scuolaleonardo.com/italian-wine-and-food-courses/italian-cuisine-cooking-course-in-italy.html
The winner will be contacted by us in the following days!
Our best wishes for Christmas to all of you from all the Staff of Scuola Leonardo da Vinci!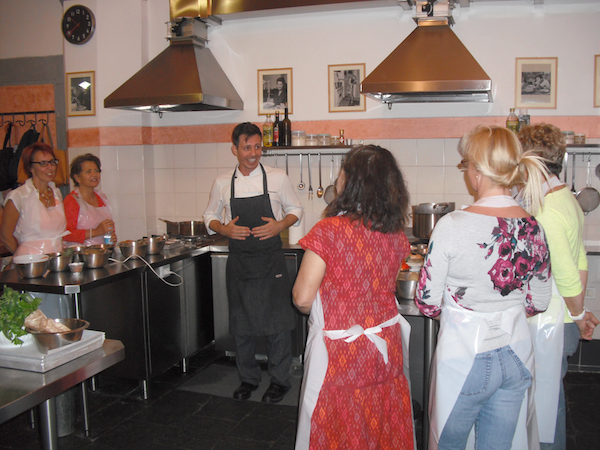 Buongiorno a tutti e buona Vigilia di Natale!
E' arrivato il grande giorno, quello dell'estrazione del nostro premio legato al gioco del Calendario dell'Avvento!
Anche quest'anno siete stati tantissimi a partecipare e ci sarebbe piaciuto premiare tutti, ma un gioco e un gioco, e la fortuna è una ruota che gira … 🙂
Il nostro premio di quest'anno sono due lezioni di cucina che permetteranno al vincitore una full immersion gastronomica alla scoperta dei sapori e dei colori della cucina italiana.
Ogni lezione dei nostri corsi di cucina consiste in un incontro di 3 ore nel quale un gruppo di studenti, seguiti da uno chef professionista, preparano un menù completo composto da piatti tipici della cucina italiana: una piacevole occasione per parlare in italiano, socializzare e divertirsi che poi è lo spirito che contraddistingue tutti i nostri corsi, apprendere con gioia e divertimento.
I dettagli di questo corso fantastico li trovate qui: http://www.scuolaleonardo.com/it/corsi-culturali/corso-di-cucina-italiana.html
Il vincitore sarà contattato via email nei prossimi giorni 🙂
Ancora tanti auguri di un Natale sereno da tutto lo staff della Scuola Leonardo da Vinci